Dublin Garden Design – Low Maintenance

Low Maintenance Garden Design specially tailored for your garden and designed with your needs in mind.   Garden Design Dublin can design an attracitve garden for you which is low maintenance.  With a low maintenance Dublin Garden Design you can  spend more time enjoying your garden and less time working in it.   You can still have a beautiful garden design but with less work.
Features which can be included in low maintenance garden designs included no lawn, clean and defined lines, easy care hard landscaping, carefully selected plants and the effective use of mulches.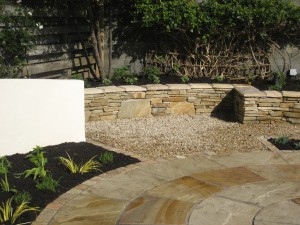 Reducing the size of your lawn or eliminating it altogher in a small garden, is not such a bad idea.  All gardens do not need grass or a well manicured lawn!  They can look just as attractive without a lawn.  This removes entirely the need for the weekly grass cutting chore which has an amazing and immediate impact on the amount of time you need to spend in the garden.  Replacing your lawn with hard landscaping need not mean just a large expance of concrete, attractive paving can be broken up into different areas using different types of hard landscaping eg mixing decorative gravel areas with attractive paving or decking.   Even using all three mixed in with some planting popping up through gravel areas can work if designed well and it can look great!!
If you need to keep some lawn then adding an edging between the lawn and the shrub borders can save much needed grass cutting time and also give a cleaner finish to your garden.   The use of weed control barriers and effective mulch's can also dramitcally reduce the problem of weeds and the time needed to keep them under control.
Our professional Dublin garden design service  can incoporate some or all of these features into a garden design plan specifically tailored for you and produce for you a beautiful garden for you to enjoy.
All gardens do not have to require weekly maintenance so give Claire a call on 087 2334631 or email at Claire@gardendesigndublin.ie to discuss your requirements.
See examples of Garden Design Ideas.
Tagged: Garden Design Dublin, Garden Design Ideas, Low Maintenance Garden Design