Are you building your own house in Ireland? Has the local Irish County Council requested a Landscape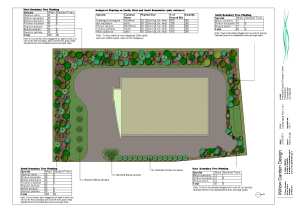 Plan for Planning Permission purposes for your site. If so, we can compile a landscaping plan for your site which meets the county councils requirements. We can compile the landscaping plan from information sent to us via email or the post. This avoids the unnecessary expense of site visits and keeps the cost down.
All you have to do for us to compile a Landscape Plan for Planning Permission for your site is send us some information. This would typically include:
A copy of any relevant correspondence from the County Council regarding the Landscaping.
A scale drawings of your site (from your architect) showing the house position and outline. This needs to include the site boundaries, driveway, entrance and any planting which is to be maintained. It would also normally include service locations (e.g. septic tank location) and topographical levels.
Photographs of the site
To compile a Landscaping Plan for your site, documentation can be sent to us either by post or email from anywhere in Ireland. Based on all this information we will be able to send you a professionally finished Landscape Plan for Planning Permission which will meet your County Council's requirements.