Garden Planting Plans, Planting Ideas and Planting Advice tailored for your garden!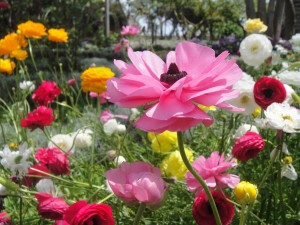 A new garden or an existing garden can be greatly improved by good Garden Planting and new Planting Ideas. Adding some new plants or creating a new garden border can have an amazing effect on your garden.
Garden Planting can often prove to be the most cost effective way of improving a garden. We have extensive knowledge of which plants are most likely to succeed in gardens in Ireland.
At very competitive rates we can give you Planting Advise for your garden. We can give you some great planting ideas and/or we can re-design your garden planting. This can be stand alone service or if you wish to we can also, provide the plants for you to plant or if required plant it for you.
Choosing Plants
for Great Planting Plans
Do you get confused when you arrive in a Garden Centre? Is the range of plants available too vast and you just don't know what to buy? Have you ever compiled a list of plants you would like for your garden's planting from a garden plant book. Then upon on arrival at the garden centre find that a lot of these plants are not available. Has your garden planting become too overgrown or untidy and you don't know what to do? Whether you should keep some of the plants, prune them or remove them entirely.
If you have ever encountered any of these garden planting problems we can help. We can provide great planting ideas including garden planting plans. You can complete the planting plan yourself. However, if you don't have time to do the work yourself we can do it for you. Lastly, if you just want advice on your garden and its planing we can visit your garden and do a one to one consultation with you followed by a a written report outlining what you should do.
Garden Planting Plans
We can produce a garden planting plan for any area of your garden. This can be for either a new garden border or to renovate an existing border. This plan will take into account your garden planting preferences and will include a layout of the area to be planted. The layout drawing will show what plants you should buy and where you should plant them. If it is required to renovate an existing border, it will tell you what garden plants should be removed and what garden plants should be pruned. It will name all the new plants required and the quantities to buy.
The Garden Planting Plan will be created taking into account the soil type and the aspect of the area to be planted. The plants will be listed in a Plant Schedule which you can give to your local garden centre to order your plants if you plan to Do-It-Yourself.
This Garden Planting Plans service can be provided by either the post or after visiting your garden.
Garden Planting Services
If you don't have the time to do the garden planting yourself, we can plant your garden for you if you live in Dublin, Wicklow or surrounding counties.. It does not matter how small or large the area requiring planting is just give us a call to discuss your garden planting.