Add a contemporary design twist to your garden design with these garden steps and associated curving retaining garden walls.   These steps and walls were created for a Garden Design which was built in Greystones, Co Wicklow last year.  As well as being functional, these garden steps and walls are a great garden feature in themselves which adds an unusual garden design twist to the garden.
The garden design was for a back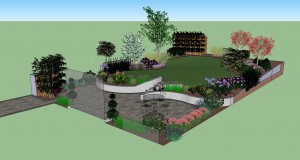 garden which had a slope upwards from the house towards the rear wall.  It was neccessary to level off the area nearest the house to create a patio area on one level for a table and chairs.  The design twist in this garden design is that the walls are created in complementary convex and concave shapes as they interface with the patio along the width of the garden, making them very distinctive and unusual.   The garden walls are also lit up at night with blue uplighers set just below the wall which creates a wonderful bluish light against the cream plaster in the evening.

Some people may regard a slope in a garden as a a bit of an annoyance.  However a slope can be a great advantage as it allows you to add a feature into the garden design by creating different levels and building in interest.     If the slope is significant you can even build in a number of levels.   In this case the total slope up the garden created a difference of 1.25m.  The garden wall was built 500mm higher than the patio and the remaining slope was taken up across the lawn gradually from the top of the curving wall,  towards the rear wall.  This garden design is particularly contemporary, which is in part due to the use of the cream plastered finish.  However, you could do a similar design using
different materials,  for instance using natural stone and get an entirely different look which would create a totally different garden design style.
The planting along the top of the wall will add a gorgeous finish to this garden design style with alternating Box Balls,  ground cover Roses (Rosa 'Flower Carpet Red') and Agapanthus (blue and white)  coupled with some spring white and purple Tulips.   Directly along the edge of the wall at the front we planted a number of different spring and summer flowering low growing perennial's and herbs including Aubretia, Iberis and Thyme.