This year I thought that the show gardens in Bloom 2013 were better than any previous year.    There was a good selection of gardens, from the quirky to those which might even suit an average sized back garden.     The weather was also glorious on the day we went which helps to show off any garden at its best.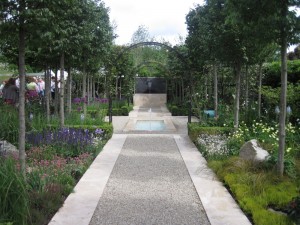 Giardino della Mostra by Tim Austen is probably my favourite Bloom 2013 show garden, it translates to Garden of Exhibits and is roughly modeled off the Show Gardens in Gardenworld, Kilquade.    The garden has great structure, uses wonderful artwork and demonstrates great planting.   It is beautifully symmetrical with beds flanking a central axes.  The borders however, soften the structure of the design with natural rocks interspersed amongst soft planting.
You have to admire the garden entitled  'A Cranberry Gathering' for its ingenious use of Cranberries which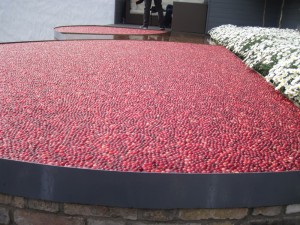 are in mass floating on a pond.   They give the appearance of a small red glass cobble finish from a distance and it was only when you got close that you realised the effect was created by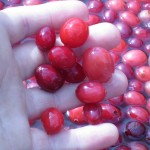 a mass of floating Cranberries!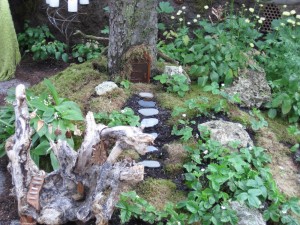 My favourite small garden in Bloom 2013 was 'Fairy Garden – Create Magic'.   It had the most wonderful small details including a miniature small door at the base of the tree.   You had to study the garden for a while to see all the small details.  The planting was soft and naturalistic.  It was just like what  you would imagine a woodland magic world would be like.   Just charming!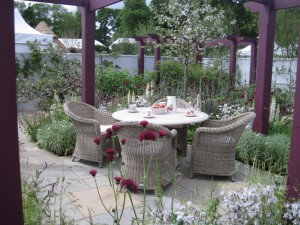 Lastly, I liked the planting and colours used in 'Love to Grow' by Jane McCorkell.   The planting colour scheme was very soft using grey tones integrated with white and some stronger wine reds hues in the flowers.  Its theme was dedicated to growing fruit and a love of flowers and outdoor dining.
For more details of the Bloom 2013 show gardens see   http://bloominthepark.com/showgardens/
Tagged: Garden Design Dublin, Garden Design Ideas