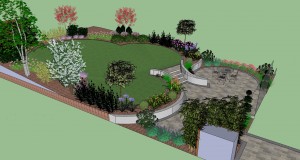 Construction has started on the 'Back Garden Design with a Contemporary Twist' in the last few weeks and great progress has been made due to the good weather.    I posted on this garden which is located in Greystones, Co Wicklow some months ago with details of its design .   The design included a generous patio area adjacent to the house backed up with unusual asymmetrical convex and concave plastered low walls and central steps.   The walls surport the rest of the garden which is at a higher level and contains an attratively shaped lawn surrounded by flowing borders which it is planned to fill with flowering shrubs and perennials.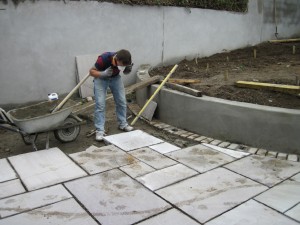 The indian sandstone paving is nearly finished, it is made from raveena coloured sandstone laid in an irregular rectangular pattern and is edged in camel dust coloured indian sandstone cobbles laid in a soldier course around the outside to give it a nice finish.  Holes have been left in the indian sandstone cobbles as up lights are going to be inserted to graze the wall with blue light in the evening!
The convex and concave garden walls are constructed, together with the walls on each side of the central garden steps.  They are just waiting for their final coat of plaster.  It is planned to use an acrylic finish long lasting coloured plaster on these walls which shouln't require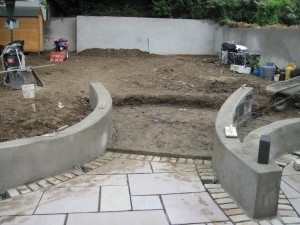 re-painting for 10 years! A bit expensive perhaps but worth the investment.
Topsoil has been added to the lawn and borders which is currently being finished and the borders are being marked out.  It is intended to finish the lawn edges with matching indian sandstone cobbles to compliment the patio surrounds.  A cobble edge to the lawn ensures easier maintenance of the lawn egdes and also adds a nice finishing detail.
The construction work should be completed by next week and we hope to plant the garden shortly after so that the owners can enjoy their new garden for the remainder of the summer.